When consumers can easily get information they trust about the environmental and social footprint of products, they will become part of the solution.
In our past diaries we published many links to studies that conclude that between 30 to 80% of consumers will buy more sustainable products and even pay more for them if they trust the information they receive.
We have been working on this vision for years and we plan to launch as soon as possible.
Others had the same vision of the future. Perhaps the most prominent of them is Esther Dyson who thought about it in 2009;
Can Transparency Be a Business Model?
The idea is pretty simple: Develop a website full of product content so that anyone can go into a store — or his neighbor's house, for that matter — scan an item's barcode, send the scan to Barcode Wikipedia, and get back a full account of the product. The data would not be just the manufacturer's ingredients, warranty policy, corporate statements and the like (though that would be interesting in itself), but also third-party ratings for carbon content, labor policies, nutritional quality, social correctness or even stylishness. All points of view are welcome; the user can filter what she's interested in. It would be much like Wikipedia, but (for now) focused on tangible products and with more structured data.
And she elaborates the concept;
Like Wikipedia, BC Confidential will have to deal with conflicting versions of the truth, as well as data that are seemingly more objective but often also contentious. To handle that, Barcode Confidential should start with a set of products and a set of ratings from some respected third parties: consumer reports, various activist groups, manufacturers' associations (yes, let's hear from everyone!), carbon-counting services, etc.
Instead of a cycle of editing and counterediting and a constantly updated single truth, Barcode Confidential would have channels. In order to be true to the spirit of things, any editor/group could add a channel (technically, a field in the database).
Each channel would need a curator who could control the content, if only by allowing anyone to post to it. Then users could choose which sources to trust by applying their own filters or selecting their own channels — do they want to see manufacturer's statement of ingredients, carbon count from AMEE, labor policies from the Campaign for Labor Rights or their favorite commentator?
Over time, with effective marketing and management, Barcode Confidential could become a valuable resource both to consumers and producers.
But what about her question of data transparency and business models?
The technology behind the proposed system is not trivial but it is available.
Certainly a website and an app to scan barcodes makes sense. Inspired by the allaregreen.us, very popular on the political blogsphere, we will also launch a browser extension to help online shoppers make purchase decisions based on sustainability.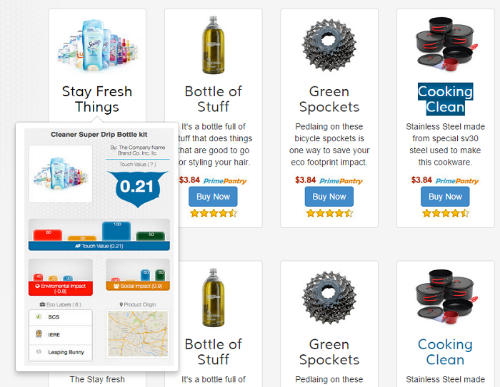 This is what the app will look like;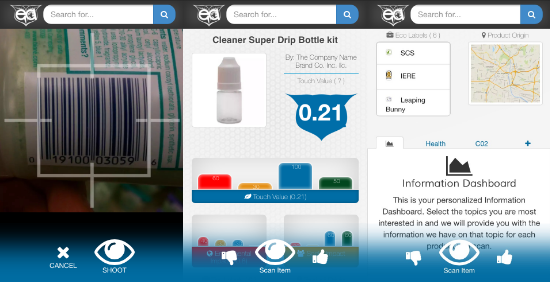 The user will be able to drill down to get the data details including source and any conflicting data. Conflicts will be resolved with a Wikipedia style framework. We believe in 100% data transparency.
The challenge is to collect the data and for this we propose a new business model; an "information cooperative", we call it the Alliance for Consumer Empowerment and Sustainability, ACES.coop.
The idea is to compensate those organizations and even individuals who provide the data delivered through the browser extension, app and website based on a pre-established formula. After consulting with 4 law firms it is clear that it can be done even no one has so far anywhere. And we have already 6 signed letters of intent from very significant organizations with data about the sustainability of the 5 initial product categories.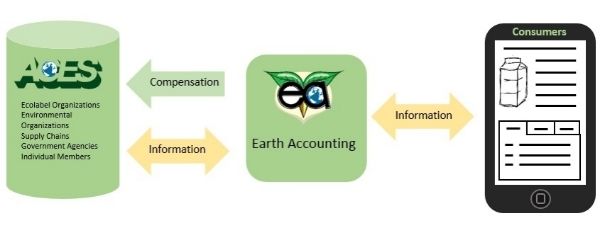 The initial business models include voluntary subscription contributions, freemium for full functionality, affiliate marketing and database subscription without disclosing user identities. A portion of the net income will be sent to the ACES coop for distribution among its members.
We are excited to make Esther Dyson's vision a reality.