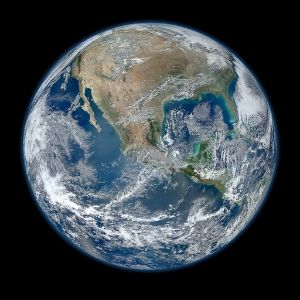 Either we achieve a global sustainable economy or we may become extinct.
Global warming caused by GHG emissions of human activity alone could do it. The Pentagon knows this.
One school of thought is that there are just too many humans as it is.
Yet another school of thought advocates less consumption.
Both of these schools of thought are right. If people consume less, sustainability is possibly achievable.
Then again achieving a sustainable Earth so that it can continue being a functional spaceship and carry us through the ages is a complex issue. Wikipedia is a good starting point to understand the issues and the work ahead.
We believe that all approaches are useful and needed. Certainly some issues such as climate change (or global warming if you prefer) are urgent. Grassroots and activist movements that put pressure on government such as Climate Hawks, 350.org and others are needed. Education of new generations is also a requirement.
But let's focus on what Wikipedia calls "a major driver in the destruction of Earth's ecosystems", consumption;
The environmental impact of a community or of humankind as a whole depends both on population and impact per person, which in turn depends in complex ways on what resources are being used, whether or not those resources are renewable, and the scale of the human activity relative to the carrying capacity of the ecosystems involved. Careful resource management can be applied at many scales, from economic sectors like agriculture, manufacturing and industry, to work organizations, the consumption patterns of households and individuals and to the resource demands of individual goods and services.
Consumption represents up to 70% of the economy. So what can be done to change consumption patterns to achieve sustainability?
What is needed is for consumers to change their behavior patterns?
First of all, not all consumers are the same. In the US, as many as 66% of them live paycheck to paycheck and achieving sustainability may not be their main motivation.
According to several studies including this one from the UN and Accenture, as many as 14% of all consumers in the US (and more in other countries like China, India and Brazil) would rather buy more sustainable products and services. And this study by Nielsen claims that as many as 42% of consumers in North America are willing to pay more for more sustainable products and services;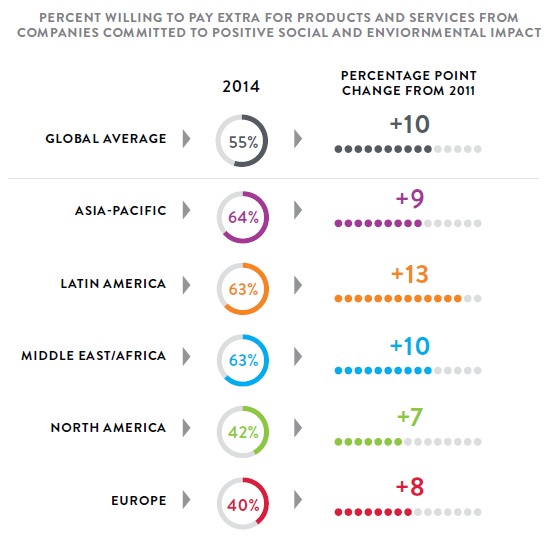 But for consumers to make better purchasing decisions they need to have information about the sustainability of products and services. And this information has to be easy to access and it has to be accurate and useful.
So far there are three approaches to obtaining and delivering the information needed for better consumer decisions; the French approach, Walmart's Sustainability Consortium and Earth Accounting.
The French Approach
The Grenelle 2 legislation passed in 2011;
This plan aims to adopt sustainable methods of production and consumption and increase consumers' awareness of the environmental impact of products, which would include but not be limited to the carbon footprint (the amount of greenhouse gases emitted during a product's manufacture, packaging, and transport, i.e., lifecycle). The proposed bill would make environmental labels mandatory on all products sold in France, including agricultural/food products, by January 2011.
Essentially, this is a typically French approach where the government in collaboration with corporations, labor unions, and environmental organizations creates a framework for the economy. In this case, it is to provide sustainability information to consumers.
The government has the authority to eventually get it done.
The Walmart Approach
Walmart has formed the Sustainability Consortium
As global citizens, we face extraordinary challenges: complexity of global trade and supply networks, world population growth expected to reach 9 billion by 2050, diminishing resources, worker safety and fair treatment, human health and safety.

At the core of multiple stakeholders' interests and at the center of such challenges we find the need to more accurately quantify and communicate the sustainability of products. The challenge before us, then, is to work collaboratively together, developing an approach that drives better understanding, standardization, and informed decision making.
One of the end results of this effort that started in 2008 is to provide sustainability information about products sold by Walmart and Kroger, McDonalds and Disney (the only three retailers members of the consortium)
Mission

Through multi-stakeholder collaboration, our mission is to design and implement credible, transparent and scalable science-based measurement and reporting systems accessible for all producers, retailers, and users of consumer products.
Walmart has the authority to demand data from its suppliers, all of whom are members of the consortium.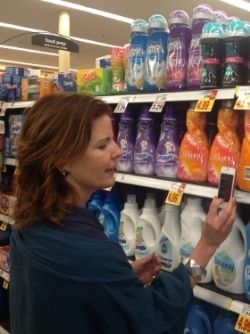 The Earth Accounting Approach
"Knowledge is power" as Francis Bacon said. Earth Accounting believes in consumer empowerment by delivering sustainability knowledge about products;
What do we mean by the Empowered Consumer
and why should you care?

We live in a world where everything is just a click away. The internet has conditioned us to expect information and services on demand at anytime, anywhere — and often for free. It has also given us the power to share our experiences immediately, at
the touch of a button. The consumer, rather than the brand, controls the interaction.

As consumers we don't need advertisers to speak directly to us anymore; through social media and our mobiles, we can instantly share recommendations and content with our friends.

We can also turn to the opinions of strangers via the ratings and reviews of social commerce to help us determine which products and services we buy. Brands need to work harder to make themselves heard.
It is possible to collect the sustainability data, information and knowledge about sustainability to deliver to consumers by simply scanning a barcode.
The Earth Accounting approach involves a new and unique way of compensating environmental, ecolabel and government organizations, corporations (retailers, manufacturers, recycling, etc.) and their supply chains. Even individuals who provide the data through an "information cooperative".
In a typical cooperative, farmers get compensated depending on the tons of produce they deliver which in turn are sold by a supermarket. The ACES cooperative (Alliance for Consumer Empowerment and Sustainability) will compensate its members depending on the data they deliver according to a pre-established formula.
Several major ecolabel and environmental organizations have already agreed to participate.
***************
Three different approaches to empower consumers to make better decisions to achieve a sustainable economy; government mandate, corporate, and a new type of information cooperative.
All thoughts and feedback are welcome.