Most medium and large corporations are establishing sustainability strategies. Many large publicly traded corporations even have employed Chief Sustainability Officers.
Corporations are becoming aware of the increase in support for the idea of a sustainable economy. Most corporations and government organizations are developing and publishing their Sustainability Policies.
But corporate sustainability has long ways to go as this recent report indicates;
97% of companies fail to provide data on key sustainability indicators
Only 128 of the 4,609 largest companies listed on the world's stock exchanges disclose the most basic information on how they meet their responsibilities to society, according to a new report.

The study by Canadian investment advisory firm Corporate Knights Capital says 97% of companies are failing to provide data on the full set of "first-generation" sustainability indicators – employee turnover, energy, greenhouse gas emissions (GHGs), injury rate, pay equity, waste and water.
There is also a growing movement promoting the idea of "community sustainability". The number of activists around the world that propose, promote and start implementing the idea of moving towards sustainability from a community and urban perspective is increasing every day.
Sustainable community initiatives have emerged in neighborhoods, cities, counties, metropolitan planning districts, and watershed districts at different scales pertaining to community needs. These initiatives are driven by various actor groups that have different methods of effectively planning out ways to create sustainable communities. Most often they are implemented by governments and non-profit organizations, but they also involve community members, academics, and create partnerships and coalitions.
A more elaborate plan can be seen in this outsdanding diary by citisven;
The Urban Metabolism: Understanding Your City by Understanding its Flow
In fact, with the help of intrepid citizen activists and students in our pilot cities of Cairo and Casablanca we are taking it even further: turning the tool from the inside out and from the bottom up, we are testing out Participatory Urban Metabolism Information Systems, a method designed to empower people on the ground to map out their own neighborhoods and become participants in transforming their communities into more resilient, equitable, and ecologically healthy settlements.
The corporate and community sustainability movements are both absolutely necessary if we are to keep Spaceship Earth viable.
But is this enough?
There is a different perspective on sustainability from an economy viewpoint.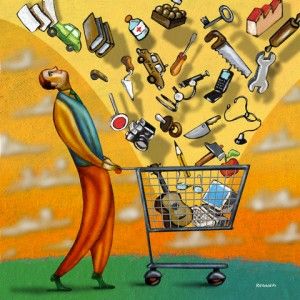 The Gross World Product of about $85 trillion is a function of government spending, investment and consumption in all countries. The Gross Domestic Product of a country is calculated as;
C + I + G + (X – M) = GDP
C = Personal Consumption Expenditures
I = Gross Private Fixed Investment
G = Government Expenditures and Investment
X = Net Exports
M = Net Imports
The (X-M) total for all countries adds up to 0 by definition.
Of the other three components, consumption is by far the largest. In the US consumption makes up 70% of GDP and globally it averages about 60%.
So consumption totals around $50 trillion per year worldwide.
We believe that when consumers can make purchasing decisions based on sustainability our Spaceship Earth will stand a much better chance of remaining viable.
To get there, consumers must have easy access to sustainability information about the products they buy. This is where EarthTouch can play a pivotal role.
When consumers can participate individually by voting with their wallets, they will also put additional pressure on corporations.
Corporations are getting the point as this recent study shows;
Over the years,consumers have taken increased action on behalf of brands with Purpose:

39 percent increase in "would recommend" cause-related brands
34 percent increase in "would promote" cause-related brands
9 percent increase in "would switch" brands if a similar brand supported a good cause
If all this makes sense, check out our crowdfunding campaign.